Viennese émigré Kurt Popper was a remarkable and prolific architect who helped introduce European modernism to the design of Australia's places of worship.
On a plane tree-lined suburban street not far from Melbourne's St Kilda Botanical Gardens stands a physical reminder of the turbulence and horror of world events in the twentieth century. Themes of migration, refuge and the rebuilding of community by European Jews find material expression in the design of the Elwood Talmud Torah, which reveals influences of European architectural modernism. The synagogue was designed by Viennese émigré architect Kurt Popper between 1953 and 1957, and later expanded, then substantially remodelled, in 1972–73. Today the monolithic yet meticulous peach-blond brick panels of the synagogue stand amid Federation houses and six-pack apartments. Faded azure ceramic tiles surround an exuberant copper relief Star of David on the facade atop a sunburst aureole by another Viennese émigré, sculptor Karl Duldig.
Founded in the 1930s by European Jews fleeing anti-Semitism, the Elwood Talmud Torah congregation, like the entire Melbourne Jewish population, grew with the large post-Holocaust immigration of the 1940s and 1950s. It is emblematic of the many postwar Jewish communities in which European life was reformulated for suburban Melbourne. The vision was of a community that was integrated, but not assimilated, into the local culture, and the synagogue sits within a larger campus of community facilities including a kindergarten, school and social hall. As with so many postwar Australian synagogues, the congregation first met in a private home, then moved to a rental property, later purchasing land with a house and, finally, commencing building.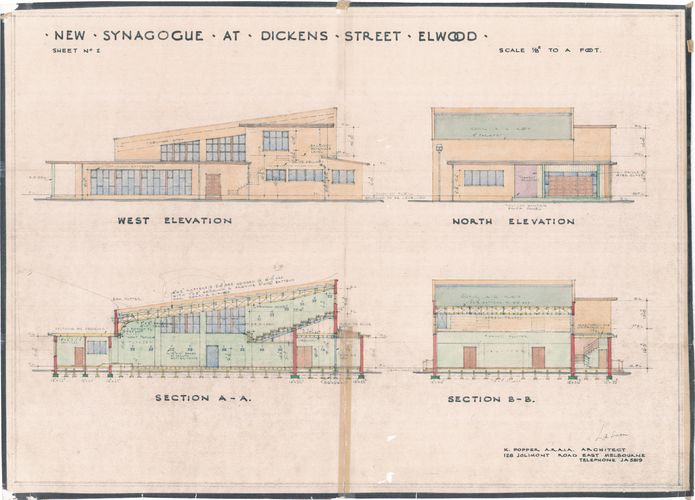 Read the article by Catherine Townsend in ArchitectureAU.